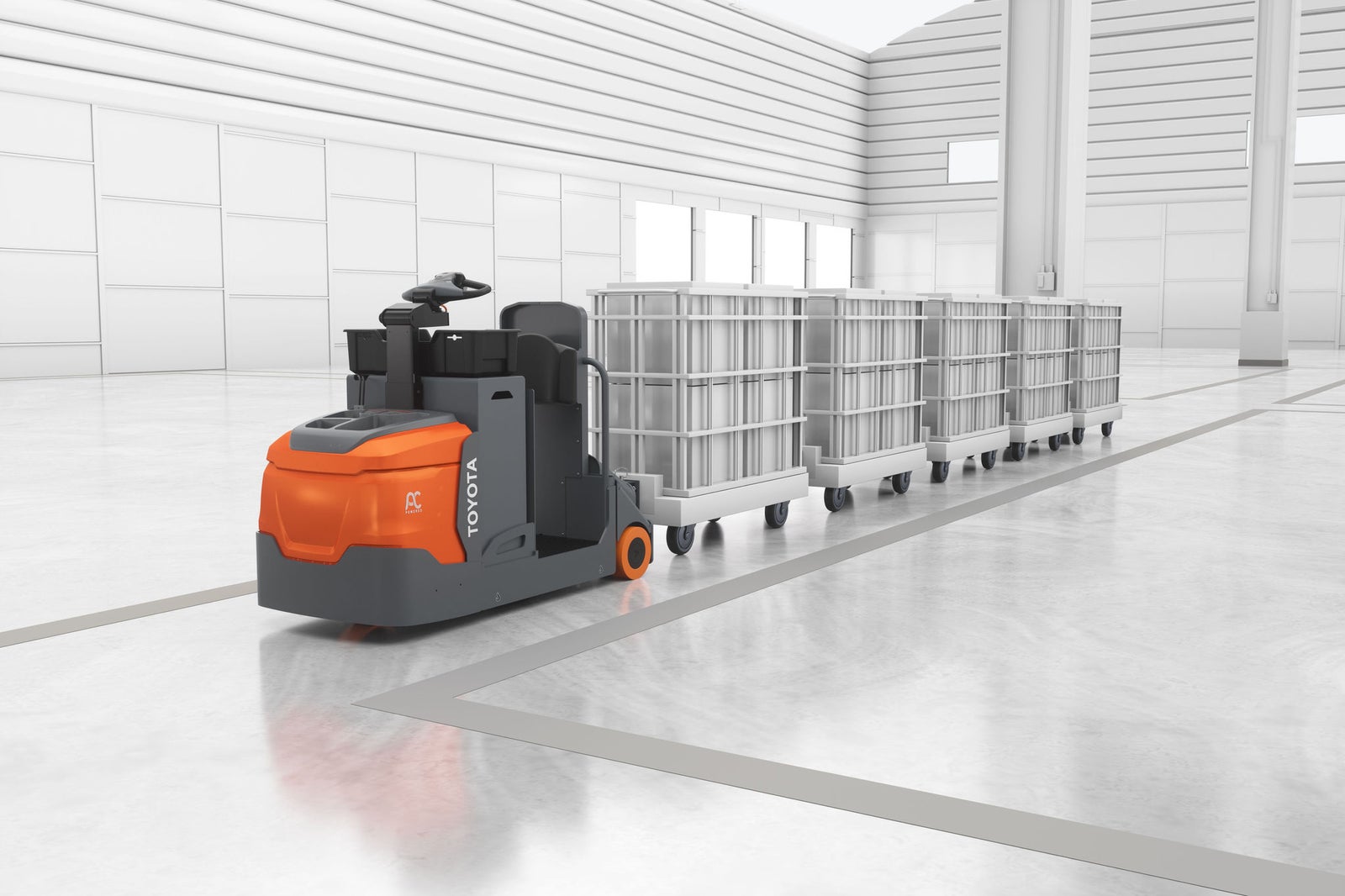 Posted: April 27, 2023 on ToyotaForklifts.com
Read Time: 5 mins
An Industrial Tow Tractor is a piece of equipment capable of transporting the heaviest loads horizontally through any warehouse or distribution center. Its powerful, ergonomic, and durable design allows operators to increase their run time, so they can efficiently transport materials from one end of their facility to the other, all while remaining comfortably productive.
Learn more about the Industrial Tow Tractor and why you may consider adding it to your fleet.
Is an Industrial Tow Tractor Right for You?
When it comes to heavy duty towing, Toyota's Industrial Tow Tractor is the right solution for the job. This versatile piece of equipment is applicable in a variety of industries, such as general manufacturing, warehousing, or the beverage industry. Designed with a towing capacity of up to 15,000 lbs. on level surfaces, this high-capacity tugger can easily tow even the heaviest of loads. With its power steering capability, you can seamlessly transport items from point A to point B, so you never have to worry about getting the job done.
Advantages of Toyota's Industrial Tow Tractor include:
Battery Gate Interlocks- remind operators to place the battery in the proper location before operating the forklift
Cold Storage Conditioning- protects components from condensation and cold temperatures
Operator Compartment Sensor- reinforces operator training by encouraging operators to stand in the operator compartment
Large Magnetic Battery-Mounted Storage Tray- provides storage for operators to place their items
Toyota LiB CAN Communication Interface Option- provides a fully integrated Toyota LiB battery to extend operating time
Turtle Speed Button- slows the maximum operating speed for improved control and precision
Additional Toyota Tow Tractor Models
Toyota is no stranger to implementing cutting-edge technology. Our tow tractors are no exception. Toyota's tuggers are ideal horizontal transportation solutions for delivering materials throughout your facility. Each of Toyota's Tow Tractors is designed with programmable performance capabilities that allow users to set parameters to meet operational goals, needs, and load capacity.
Core Tow Tractor– The Core Tow Tractor is capable of towing up to 10,000 lbs. on level surfaces and comes equipped with 24V drive system and regenerative plugging that gives you the boost of power and productivity you need to keep on moving.
Mid Tow Tractor– The Mid Tow Tractor features a 48V electrical system and a sit-down or stand-up option. This power player features an array of ergonomic and productivity-enhancing features that makes pulling carts or transporting materials through your facility a breeze.
Large Tow Tractor– This powerhouse offers the same output features as the Core and Mid Tow Tractors but with a maximum tugging capacity of up to 50,000 lbs. on level surfaces, making it ideal for maneuvering around planes and ground support equipment.
To learn more about Toyota's new Industrial Tow Tractor or other tow tractor models, please contact your local, authorized Toyota Forklift Dealer today.